In high school, the jocks ruled the school… but in life it's the nerds that usually have the last laugh.
Project X
(2012)
Directed By:
Nima Nourizadeh
Starring:
Thomas Mann
,
Oliver Cooper
,
Jonathan Daniel Brown
Three high-school nobodies -- a sweet-natured average Joe, a cocky party-animal wannabe, and a tubby nerd -- who plan and throw the ultimate birthday party and make a name for themselves among the seemingly impenetrable popular crowd at school. Will they achieve the daunting goal of popularity?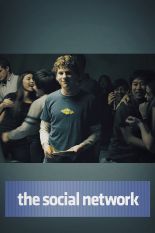 The Social Network
(2010)
Directed By:
David Fincher
Starring:
Jesse Eisenberg
,
Justin Timberlake
,
Andrew Garfield
Harvard undergrad and computer programming wizard Mark Zuckerberg launched a website with the potential to alter the very fabric of our society. Despite all of Zuckerberg's wealth and success, his personal life began to suffer as he became mired in legal disputes, and discovered that many of the 500 million people he had friended during his rise to the top were eager to see him fall.
Revenge of the Nerds
(1984)
Directed By:
Jeff Kanew
Starring:
Robert Carradine
,
Anthony Edwards
,
Ted McGinley
Revenge of the Nerds is the juvenile sex comedy perhaps most synonymous with the 1980s, alternating gags and scantily clad women with a power to the underdogs mentality that prompted three sequels. The nerds battle the jocks to reclaim their fraternity house as well as their dignity.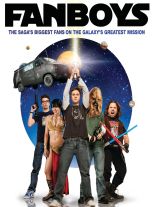 Fanboys
(2007)
Directed By:
Kyle Newman
Starring:
Sam Huntington
,
Dan Fogler
,
Jay Baruchel
A fanatical group of Star Wars devotees travel across the country on a mission to steal a print of Star Wars: Episode I -- The Phantom Menace from Skywalker Ranch and become the first fans to see the film in this rowdy, sci-fi-flavored road comedy.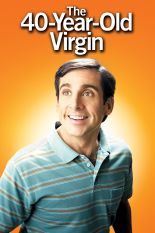 The 40-Year-Old Virgin
(2005)
Directed By:
Judd Apatow
Starring:
Steve Carell
,
Catherine Keener
,
Paul Rudd
Andy Stitzer, a cheerfully geeky guy who is settling into middle age with his large collection of comic books, action figures, and collectable models, seems reasonably happy with his life. However, one day his friends and co-workers discover that Andy has a secret -- Andy is still a virgin. Andy's pals are appalled at this state of affairs, and set out to find a woman who'd be willing to get horizontal with him.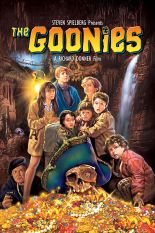 The Goonies
(1985)
Directed By:
Richard Donner
Starring:
Sean Astin
,
Josh Brolin
,
Corey Feldman
A group of misfit kids are in search of buried treasure in a subterranean cavern. Here they cross the path of lady criminal Mama Fratelli and her outlaw brood. Fortunately, the kids manage to befriend Fratelli's hideously deformed (but soft-hearted) son, who comes to their rescue in a race to save their town from being torn down.
Weird Science
(1985)
Directed By:
John Hughes
Starring:
Anthony Michael Hall
,
Ilan Mitchell-Smith
,
Kelly LeBrock
Wannabe hipster Gary and his nebbish weak-willed best friend, Wyatt, who are hapless with members of the opposite sex, create what they believe is the ideal woman by using a computer and a little bit of mother nature. Trouble begins brewing when Wyatt's cruel, military-minded older brother, Chet, begins to realize that something is not as it should be.
Napoleon Dynamite
(2004)
Directed By:
Jared Hess
Starring:
Jon Heder
,
Jon Gries
,
Aaron Ruell
Napoleon Dynamite, a carrot-topped oddball with a decidedly eccentric family that includes his llama-loving, dune-buggy enthusiast grandmother, is determined to help his pal Pedro run a winning campaign and defeat popular girl Summer. He pulls out all the right moves to win the hearts of his fellow classmates in the small Idaho town of Preston.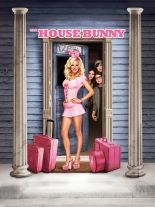 The House Bunny
(2008)
Directed By:
Fred Wolf
Starring:
Anna Faris
,
Colin Hanks
,
Emma Stone
When Playboy playmate Shelley is unceremoniously evicted from Hugh Hefner's lavish mansion in order to make room for some younger beauties, her quest for employment finds her serving as den mother to an unpopular L.A. sorority in this Happy Madison production.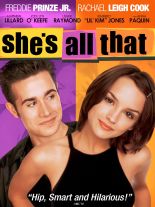 She's All That
(1999)
Directed By:
Robert Iscove
Starring:
Freddie Prinze, Jr.
,
Rachael Leigh Cook
,
Matthew Lillard
A Los Angeles' school's most popular guy Zack loses his girlfriend Taylor to television star Brock Hudson. Zack then vows to his friends that he can take any girl in school and turn her into the prom queen. With five weeks until the prom, his friends pick weird, art nerd Laney Boggs. Zack predictably gets more than he bargained for as he falls in love with his "creation."