Handsomely mounted historical dramas about the great kings and queens in world history are about as durable and long-lasting a genre as filmmaking has ever known. And people who like that kind of thing will find The Young Victoria to be the kind of thing they like.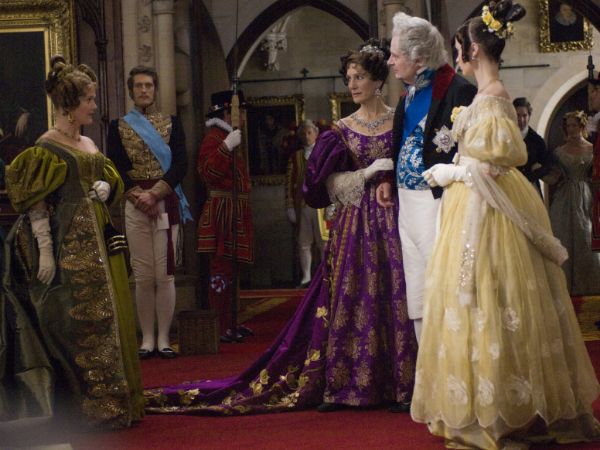 The teenage Victoria (Emily Blunt) ascends to England's throne after the death of her uncle, King William (Jim Broadbent). Because she is unmarried, her choice for a groom has international implications. She's inundated with a steady stream of advice from her mother (Miranda Richardson), her closest political aide (Paul Bettany), and from many other self-serving members of court. The young queen wants to think for herself, however, and even though she has no desire to marry, takes a shine to Prince Albert (Rupert Friend) and allows him to begin courting her from afar. Although her people celebrate her grandly at the beginning of her reign, Victoria begins to lose the goodwill of her subjects due to an amateur understanding of politics, and soon comes to believe that Albert may be the only person she can fully trust.
Director Jean-Marc Vallée, with the help of outstanding costume design and art direction, serves up sumptuous visual splendor in just about every frame -- this is the kind of movie that deservingly wins a boatload of the coffee-table Oscars. However, if The Young Victoria were nothing more than a series of pretty postcards, it wouldn't be worth watching. Thankfully, Emily Blunt effortlessly and gracefully displays the charm required to make Victoria a heroine worth cheering -- she may be naïve, but she's never dumb. Her growth over the course of the movie is subtle -- this is not a character who undergoes a sweeping change, but rather one who slowly but surely figures out what she wants, and then goes about getting it. Granted, there are no surprises, per se, especially if you're familiar with the actual historical events that are being played out. But fans of well-acted, elaborately ornate movies about palace intrigue and romance will find much to enjoy.