by Nathan Southern
review
Fans of vocalist Norah Jones who feel curious to glimpse the star's capacity for feature drama may walk away from screens with more questions than they had going in after checking out this English-language directorial debut by famed Chinese director Wong Kar-Wai. An arty, hyper-stylized ensemble piece, My Blueberry Nights features Jones in lead billing, and Kar-Wai and co-scripter Lawrence Block build the narrative trajectory on the geographic journey of her character, Elizabeth. The actress, however, does little onscreen other than narrating portions of the movie, and bearing witness to vicissitudes from the lives of various middle-American characters Elizabeth encounters -- making this a vignette-laced showcase for the work of four A-listers: Jude Law, David Strathairn, Rachel Weisz, and Natalie Portman. Everything else here is just window dressing.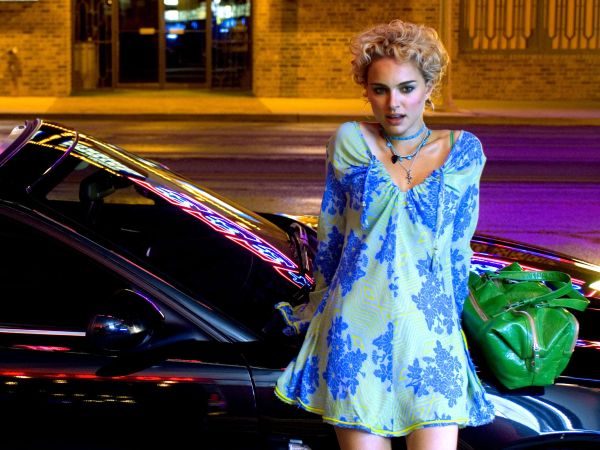 A whopping great part of the emotional impact and intellectual power in Kar-Wai's Chinese-language films (Chungking Express, Happy Together, etc.) derives from their ability to adroitly merge alluring visual effects (fast and slow motion, stop motion, surrealistic lighting, flashy montages, superimpositions, impressionistic color) with semi-improvised performances that enable the actors and actresses to feel out and work through almost intangible and inarticulate emotions and psychological states onscreen. This juxtaposition typically enhances the depth of the material. My Blueberry Nights retains one-half of the equation: the stylization is here ad nauseam, but the film demonstrates little sign of improvisation. The narrative is clear-cut and the dialogue may have been ad-libbed, but it sounds completely written and rehearsed; dramatic events (including an alcoholic cop's gun-wielding tirade with his loose-limbed, dysfunctional wife and a young gambler's journey to a Vegas hospital to see her father one last time) feel calculated and planned, and resemble slightly diluted derivatives of Sam Shepard stories, with more than a passing influence by Tennessee Williams. That isn't necessarily a problem. The ability to pull out everyday events from Middle American lives, with a strand or two of melodrama, has a certain capacity for charm, and nothing here is the least bit dislikable; the film goes down easily.
Kar-Wai misses the mark for which he was aiming, however. His absurdly exaggerated visuals not only fail to serve any apparent purpose, but detract from the material onscreen in an almost Brechtian manner by calling attention to the drama's artificiality and making it seem both thin and transparent. If he wants to bring us to the point of complete emotional intimacy and empathy with these Middle American characters, he should at least give us some indication of a realistic and plausible onscreen environment, with ontological depth and dimension -- in the way that scriptwriter Shepard, director Wim Wenders, and cinematographer Robby Müller did with their masterpiece Paris, Texas (1984). That doesn't happen here -- not even once -- and unlike Shepard, Wenders, and Müller, Kar-Wai demonstrates no respect for the Middle American landscape, not even during a cross-country road trip to Vegas sequence. What a missed opportunity. My Blueberry Nights will invariably draw critical comparisons to Jim Jarmusch thanks to the Memphis setting for much of the narrative and the almost anecdotal structure, but that comparison feels unfair to Jarmusch. It lacks his offbeat originality and his quirky take on Middle America.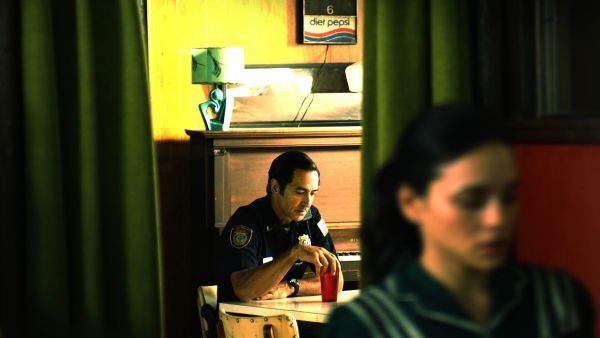 Had the director tamed and subdued his aesthetic impulses (enabling us to believe in the world that he hands us) and given us a clearer sense of the environment, he could have improved the feature tenfold, but even more so with subtly nuanced and finely felt performances from his stars. Despite overwhelming geniality simply wrought via their presence onscreen, the ensemblers rarely plumb the depth, nuance, and emotional complexity necessary to give this material weight and dimension. As a case in point, Weisz feels infuriatingly inconsistent -- to such a degree that both scrapes the bottom of the barrel and brings the film to its zenith in one ten-minute span. Her nadir hits when her character, Sue Lynne (the aforementioned cop's wife), responds to devastating tragedy with an agonizing, drunken rant about a saloon tab, during which she screams her lungs out at a barkeep. This is the stuff of paper-thin, Southern-fried gothic melodrama, and there may be a way to make it work onscreen, but Weisz and Kar-Wai don't find it, and the actress isn't for a second convincing during this scene; she instead feels embarrassing. Conversely, Sue Lynne has a lovely intimate confessional with Elizabeth while seated on some outdoor steps -- merely a few minutes later -- that represents some of the finest onscreen work this intuitively gifted actress has ever done. From this instance and others in the film that demonstrate the same mercurial unevenness, one senses that Kar-Wai had little control over his cast, and perhaps felt ill-equipped to direct the performers in English.
At its best, My Blueberry Nights retains a comfortable narrative flow and occasionally touches elements of lyricism, but it suffers more dramatically from what it neglects to accomplish than from what is actually onscreen.