by Nathan Southern
review
During the summer of 2008, mainstream Hollywood romantic comedies seemed fixated on male lead characters not simply driven by the need to sleep around, but by bouts of extreme nymphomania. First audiences had Ashton Kutcher as ladykiller Jack Fuller in the execrable What Happens in Vegas; then came Patrick Dempsey (aka "McDreamy" from television's Grey's Anatomy) as bachelor playboy Tom in the Paul Weiland-directed romcom Made of Honor. Tom isn't nearly as repellent as Jack; he ultimately reveals a redemptive edge, by developing an emotional capacity to give and take that preps him for marriage (therein lies the movie's central arc -- one of its few redeeming qualities). But his central defining characteristic seems to be the ability to pick up any and every woman in sight, voraciously, and a weekly "calendar" in which he's reserved a specific girl to bed down with on each night of the week, on a kind of "rotating basis," like the daily soup selection at your local Big Boy. On top of that, Tom never needs to punch the clock, because he's filthy rich. It seems that in college, he invented those coffee sleeves that have since become a staple of Starbucks and other chains, and he now gets ten cents for every one sold. So he never has to work a day in his life. Uh-huh.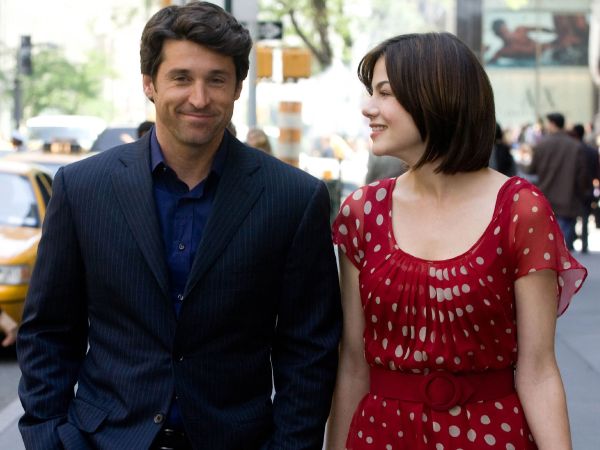 In the movie's most risible scene, Tom makes eyes with a sexy blonde at his local Starbucks, and she later greets him with, "Oh, I'm sorry. I think I picked up your cup by mistake." And it just so happens she's written her number on the side of the cup, with a note imploring him to "Call me." Dempsey himself may go through his days racking up experience after experience like this, but in terms of almost every other man on the planet, it's a safe assessment to say that this character doesn't live in anything resembling the real world. Nor, given his insulting exploitation of women, does he readily generate any audience empathy. It would be a stretch to tag him as repulsive (he at least treats the women genially enough on a surface level to avoid that label), but not much of one.
The movie's premise, of course, involves Tom's platonic friendship with Hannah (Michelle Monaghan), a beautiful young woman he met by accident (in a funny prologue) at Cornell University in 1998. He's fallen deeply in love with her, after ten years of (best) friendship, but he doesn't know it yet -- and it takes her marital engagement to a Scotsman to bring him to his senses in a valiant attempt to win her back. And in the mean time, Hannah just happens to invite Tom to serve as her "maid of honor."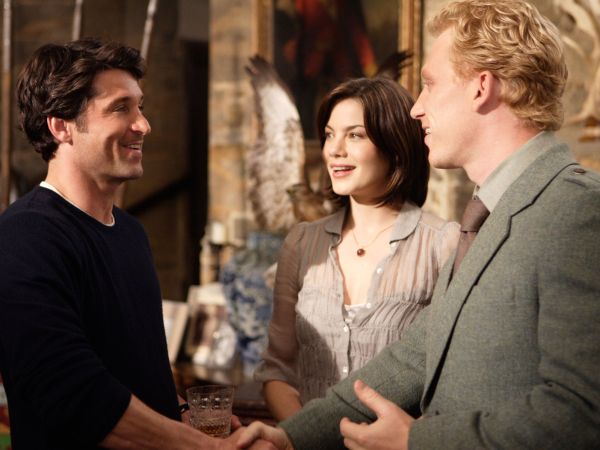 As contrived as the shift in their relationship sounds, especially given the difficulty of ever "crossing over" from a platonic friendship with a gorgeous woman to a romance, that transition feels reasonably plausible here, and doesn't represent the core of the movie's weakness. Its weakness lies in its ongoing inability to draw its characters realistically. Time and again in this movie, Tom and Hannah are presented as impure and spotless (even Tom's sex life comes across as rather goofy and charming), icons of everything we're supposed to aspire to, and the supporting characters are presented as cartoons of idiocy and obnoxiousness -- all losers incarnate. Take Tom's father, for example, Thomas Sr. (the late Sydney Pollack). This incorrigible womanizer, now on his seventh wife, counsels Tom by warning him that if he doesn't get his act together, he's going after Hannah. (He repeatedly admonishes Tom with, "Don't be a pussy. Why are you a pussy? Do you have to be such a pussy?") Or take Hannah's almost sociopathic bridesmaid Melissa (Busy Philipps), an ex of Tom's who treats him so cruelly, hatefully, and obnoxiously that she deserves to be fired from her bridesmaid post and never spoken to again. In the film's most unbearable scene, the one that feels really inexcusable, Melissa "tricks" Tom by advising him to hire a psychic (Mary Birdsong) as entertainment for Hannah's bridal shower. The "seer" in question turns out to be a slime-bucket saleswoman who opens up a briefcase of sexual apparatuses in front of everyone and attempts to shove some of them off on the unsuspecting partygoers, meanwhile speaking in an almost molestful way to Hannah's innocent grandmother. Again: another insufferable character, thrust onto the audience -- but this creep really takes the cake.
On an equally problematic note, the film (written by two groups of writers -- by Adam Sztykiel, and by the team of Harry Elfont and Deborah Kaplan) lacks all but the most rudimentary narrative structure. As in the Vegas movie, scenes aren't dramatically shaped at all; they just happen, lying there limpid and unformed on the screen, and most consist of setups without payoffs. We know we're in trouble when the middle of the movie could be hacked out sans any related issues. The scriptwriters do work in a few laugh-worthy moments (as when one of Tom's buddies grabs a bowl, exclaiming, "Hey, who made the party mix?" and shoves a handful into his mouth, only to have Tom exclaim, "Hey, that's potpourri!"), and they deserve some credit for creating in Tom a plausible character transition that, as mentioned, affords the movie some depth. (Had they begun with a believable character per se, they might have really had something.) But those elements can't save this picture. Neither can the presence of Monaghan, who demonstrates a Julianne Moore-like ability to rise above subpar material and glow brightly.
In the summer of 1997, the Ron Bass-scripted, P.J. Hogan-directed Julia Roberts comedy My Best Friend's Wedding visited the said premise (albeit from a woman's point-of-view) and demonstrated some maturity with an unpredictable and reasonably intelligent outcome. With Made of Honor, one can almost hear the studio heads cooking up a formulaic pitch: "It will be My Best Friend's Wedding, remade from a man's perspective, but we'll axe the realistic ending and increase our audience." Maybe that ploy worked in terms of residuals, but audiences don't deserve such machine-processed cookie-cutter drivel.