With his pregnancy opus Knocked Up, Judd Apatow proves that calling him a talent in the realm of comedic filmmaking would really be an understatement -- the man's a master. While this romantic comedy is honest and sentimental in its romance, it's simultaneously scathing, vulgar, and fantastically obscene in its comedy. Creating just one decent movie from two such opposite poles would seem to be impossible, but he accomplished just that inexplicable balance between cute and crude in 2004's 40-Year-Old Virgin, and with Knocked Up, he does it again.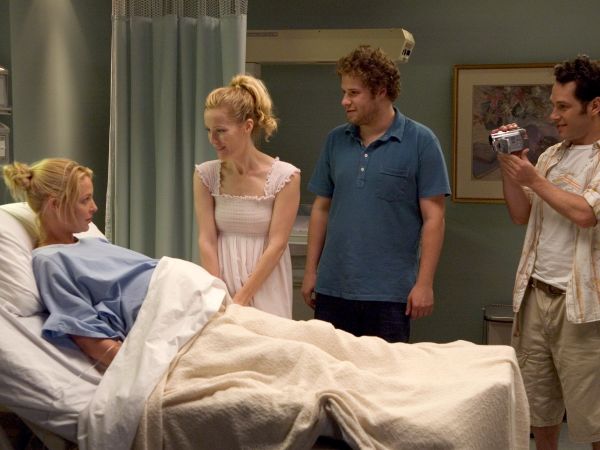 Seth Rogen also accomplishes a death-defying balancing act as Ben, a 23-year-old unemployed stoner who spends most of his time enjoying an extended adolescence with his roommates, compiling the minute-marks of cinema's great nude scenes and smoking massive amounts of weed. The banter between the roommates (almost all of whom are alumnus from Freaks and Geeks or Undeclared) is as awesome in its pull-no-punches raunch as the ribbing dialogue in 40-Year-Old Virgin. And yet, somehow through all of it, Rogen is undeniably likable, probably because despite his hesitation and horror, he does the right thing when Alison, his one-night-stand partner played by Katherine Heigl, tells him she's pregnant. Their weird and awkward journey over the next nine months is imperfect to say the least, with Ben living off triple-digit savings and Alison afraid to tell her boss about her situation even after her massive belly makes it more than obvious. But it's that overall imperfection that makes it believable when the couple's future still looks optimistic.
Leslie Mann and Paul Rudd play Alison's sister and brother-in-law, spouses who have fallen so far into the hole of children/mortgage pressure that they now take each other completely for granted. The two provide a backbone for the movie's more substantial themes about marriage and parenthood, engaging in chillingly accurate bickering and tumult while at the same time, providing tremendous humor in their individual scenes (especially when Rudd and Rogen briefly recall their infamous "how I know you're gay" scene from 40-Year-Old Virgin in a similar challenge of one-upmanship).
Knocked Up doesn't waste any time trying to politicize or de-politicize Alison's decision to carry the baby to term. Her particular reasons aren't depicted, but it's entirely clear from Apatow's writing that they're not important. The premise of the film is a man and woman dealing with the impending birth of an unplanned child; there's no movie if the birth doesn't happen, and neither the humor nor the sweetness in the story depend at all on whether Alison is swayed by religion, morality, or the sudden inspiration to become a parent. It might sound unlikely that a movie can skip such a hot-button issue entirely without it looking like a cop-out, but seeing is believing. Maybe it's just another example of Apatow's magical ability to make the best comedies of his generation by making the impossible possible.