The term "romantic comedy" has become an almost euphemistic phrase, a code word for light, usually uncreative movies that gloss heavily over the romance, and even more so over the comedy. But Going the Distance defies all of these expectations. It's a smart, laugh-out-loud R-rated comedy -- and what's more, it offers a touching, surprisingly realistic depiction of love and relationships.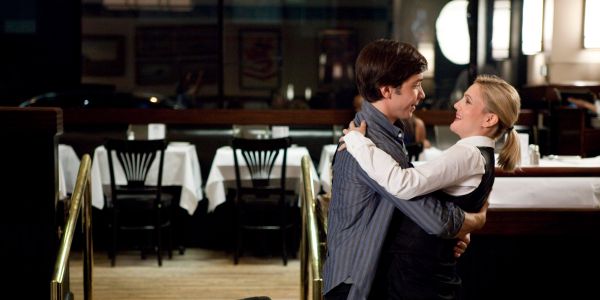 This is probably somewhat helped by the fact that the romantic leads, Drew Barrymore and Justin Long, are a couple in real life -- their chemistry and rapport is undeniable from the moment they appear together onscreen. Perhaps more importantly, though, the story doesn't follow the typical romcom formula. We start with Erin (Barrymore), a summer intern at a New York newspaper who's preparing to finish her last year of grad school at Stanford. When she meets Garrett (Long), a talent scout at a local record label, the two hit it off in the kind of giddy, instantly comfortable way that so rarely happens in dating life. But, of course, Erin will be moving to the opposite coast in six weeks, so the two elect to keep things "casual." This plan lasts right up until it's time for Erin to leave, when it becomes clear to both of them that they can't squander their lightning in a bottle, and they decide to keep up their relationship over long distance.
The plot that unfolds from this premise is funny and believable, focusing on the hilarity and heartbreak of familiar situations that long-distance couples tend to face -- from opening Christmas presents over Skype to navigating the logistics of phone sex. As you might expect, both of the leads are flanked by supporting characters of the same gender who exist almost exclusively for additional comic relief. Christina Applegate plays Erin's sister, while Jason Sudeikis and Charlie Day play Garrett's ridiculous bachelor friends, and all of them offer tremendous, possibly improvised Apatow-style F-bomb-laden dialogue that sometimes keeps the laughter going so unrelentingly that there's scarcely a chance to breathe. It's an impressive feat from a genre that usually relies on tired, worn-out jokes and predictable outcomes, but Going the Distance rises to the challenge -- and it even does so with heart.