As it stands on its own, Elizabeth: The Golden Age is a delightfully bombastic period melodrama, full of sex and war and beautiful dresses. Unfortunately, as a sequel to 1998's Elizabeth (which dealt with earlier events in the 16th century monarch's reign) it's a pale imitator to the throne. The original Elizabeth grandly showcased the epic nature of a historical turning point, while simultaneously succeeding as both a political thriller and a passionately doomed romance. Add to that themes about God, power, and the manifestations of masculinity and femininity, and you had something so incredible that simply calling it a "period film" would be like calling The Godfather just another gangster movie. This gave The Golden Age a lot to live up to as a sequel, and unfortunately, it would appear that director Shekhar Kapur just didn't attempt to do so on all fronts.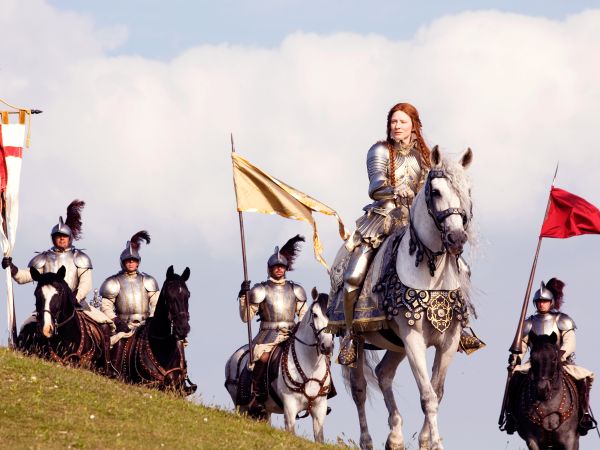 That's not to say that Elizabeth: The Golden Age isn't a great film. While it may lack the power and subtext we're looking for, it still offers its share of stunning rises and falls in a somewhat historically accurate story, not to mention some fascinating glimpses into the inner lives of its characters. This comes thanks in no small part to lead actor Cate Blanchett, who handles the nuance of her larger-than-life title character with impossible ease. Rather than simply portraying a woman with alternate moments of fire and vulnerability, Blanchett creates a fully realized person, capable of being both stalwart and afraid, both powerful and unsure. A particularly impressive appearance is made by Samantha Morton, who, in a small role as Mary, Queen of Scots, evokes the intangibility of royalty perhaps best of all, with a hauntingly ephemeral performance. Failing in her bid to overthrow the English throne, she embodies the ghostly contradiction inherent in the life of a would-be monarch: she believes the crown is hers by Divine Right, and yet she is imprisoned by the lock and key of mortal men.
This storytelling in The Golden Age differs greatly from its predecessor in that rather than grandly rising to each epic crescendo, it instead flows like water from one event to another -- be it the English defeat of the Spanish Armada or the forbidden love between a chambermaid and a privateer. This is indeed an odd choice for a movie built around such thunderous and high-flown happenings. Still, between its subject matter and its performances, The Golden Age can't help but be interesting -- or at least nice to look at when it lags.