by Alaina O'Connor
review
Jetpack-strapped dogs, bat-winged cats, kitty-litter death traps, and water-bottle interrogation techniques abound in Cats & Dogs: The Revenge of Kitty Galore, the follow-up to the 2001 film Cats & Dogs, but this time around the dueling species team up to stop the devilish feline Kitty Galore (Bette Midler) from taking over the world. Like its predecessor, this sequel is a live-action caper-comedy in which human actors take a back seat to CGI-enhanced canines and felines, and while the special effects are impressive, the film fails to deliver enough clever gags and interesting plot devices to keep it afloat.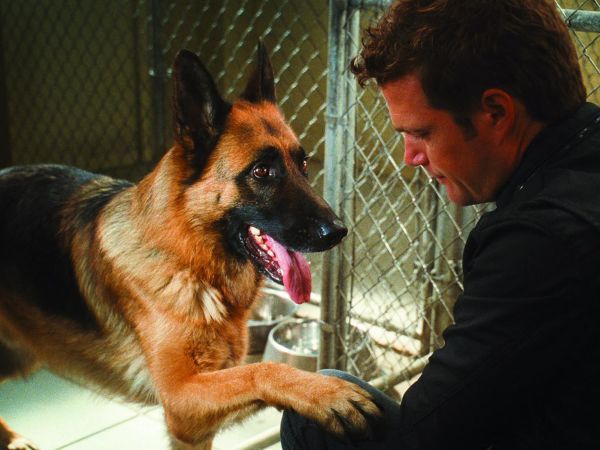 The story centers around German shepherd Diggs (James Marsden), an all-too-eager police dog sent back to the kennel after an incident involving an explosion at a local San Francisco car dealership. He's been in and out of "the system" his whole life and dreams of finding a permanent home. Diggs is sprung from the kennel and recruited by Butch (Nick Nolte) to join a secret dog agency and help his fellow canines capture the infamous Kitty Galore, an ex-MEOWS operative turned rogue after an incident involving a vat of hair-removal cream. The drooling duo is joined by Catherine (Christina Applegate), a feisty MEOWS agent and Seamus, a wisecracking pigeon (Katt Williams). From there it's one caper after another as the team races against the clock to prevent Kitty Galore from unleashing her secret weapon -- "The Call of the Wild," a high-frequency sound that only dogs can hear, which in effect will turn the canines against the humans.
The tone of the film is established during a James Bond-style opening credit sequence in the vein of Goldfinger, set to a re-orchestrated version of "Get the Party Started." The premise is interesting enough, so there's potential for laughs in the film courtesy of screenwriting team Ron J. Friedman and Steven Bencich, but the script is riddled with bad animal puns and gimmicky spy devices, and by the end you feel like they've exhausted every possible play on words known to man. The humans in this movie are basically irrelevant. Chris O'Donnell, playing the most prominent of the human characters, virtually sleepwalks through his performance as a San Francisco cop, and even Jack McBrayer (30 Rock) offers few laughs as bumbling magician Chuck, whose mobile home serves as Kitty Galore's hideout. Still, even if the 007 references aren't enough to make this enjoyable for adults, The Revenge of Kitty Galore will definitely appeal to kids.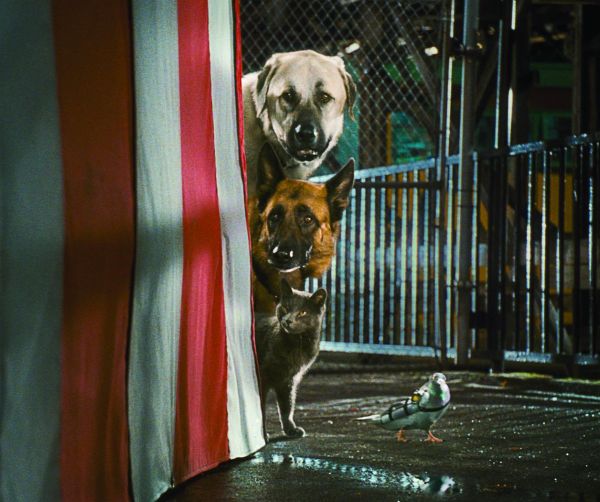 Note: Make sure not to run out for popcorn before the movie starts. There's a seriously funny Looney Tunes preshow 3D cartoon called Coyote Falls that's not to be missed.