Crummy films can be a bummer -- even more so when they are made by someone like John Landis. Seasoned comedy fans will have no problem spotting the filmmaker's fingerprints in Burke & Hare, since the slight hints of his National Lampoon days are just about the best thing in the film. Although the prospect of a comedy starring Simon Pegg and Andy Serkis sounds enticing, Pegg is wasted playing the straight role against a jovial, but otherwise lifeless Serkis, who's given very little comedic material to work with. Thankfully, Isla Fisher and Pegg's Spaced co-star Jessica Hynes light up the otherwise flat production in their love-interest roles. Notable mentions should also go to the third-string characters, who benefit from Landis' patented funny shtick.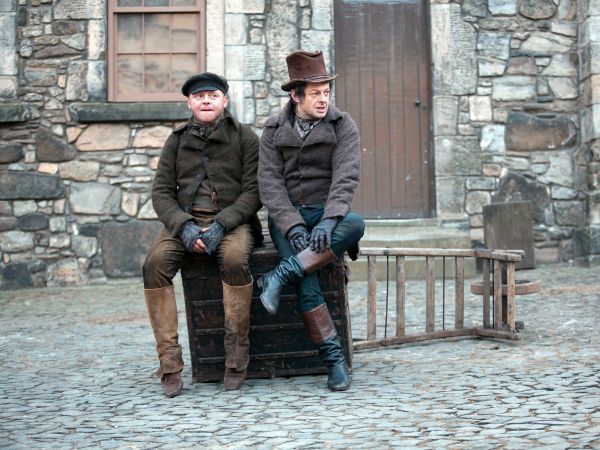 Loosely based on a true story, the picture follows two down-on-their-luck Irish chaps, William Burke (Pegg) and William Hare (Serkis), who stumble upon a successful endeavor selling corpses to an esteemed local doctor (Tom Wilkinson) in 19th-century Edinburgh. Love pushes them both to continue the nasty operation, as Burke becomes the sole investor in a female production of Macbeth starring a lovely young actress (Fisher); Hare, meanwhile, dreams of more-elaborate ways to profit off the dead with his more-than-willing wife, Lucky (Hynes). All the while, the duo are being hunted by a blowhard police captain (Ronnie Corbett) and his crew of idiotic deputies. Along the way, Tim Curry and Christopher Lee make slightly forgettable appearances, although Curry's introduction is just the kind of lunacy the movie needed more of.
Production values are spot on, delivering a grimy, earthen look to the proceedings. Indeed, the film is competently made, which makes it all the more tragic that the entire picture was based on such a tepid script. With bigger laughs and a greater sense of silliness -- which Landis obviously takes pride in delivering -- Burke & Hare could have been a delight. In its current form, the production suffers from an uneven tone that it just can't overcome. Like the stiffs that Burke & Hare have made disappear, this is one comedy in which everyone involved could benefit from it vanishing -- though it might make for curious viewing for a wayward film buff.