by Nathan Southern
review
The makers of Prince Caspian -- the second installment in Walden Media's adaptation of C.S. Lewis' Chronicles of Narnia series -- faced a daunting challenge in bringing this one to the screen. Whereas the first and third books in the series (The Lion, the Witch and the Wardrobe and The Voyage of the Dawn Treader, respectively) lend themselves effortlessly to filmization, the same cannot be said of Caspian, which Lewis structured with comparatively greater narrative complexity, a richer philosophical element, and less visual splendor than the preceding or successive installments. (It cannot be a coincidence that after the blockbuster success of Wardrobe, the producers initially skipped book two and announced the production of the visually rich and ripe Treader.)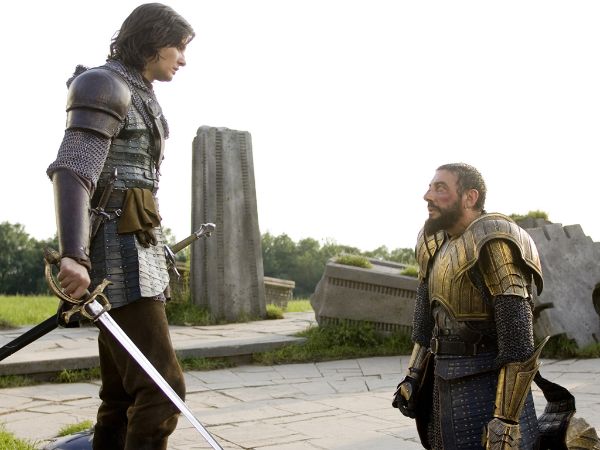 On a rudimentary level, the ease of this tale, as it unfurls onscreen, functions as a barometer of the filmmakers' success in making Lewis' temporally fractured story digestible for contemporary audiences by streamlining it. From the first scene, never once does the motion picture feel less than wholly transparent. The lucidity of the narrative serves the film beautifully, by setting up greater emotional involvement and immediacy, particularly for younger viewers. A two-and-half-hour feature that could have easily become bogged down in mythically laden background material and endless, tedious battle sequences instead whisks audience members along on a gripping and magnetizing journey, from opening frames to epilogue.
And yet, paradoxically, if the film suffers from an overarching flaw or weakness, that weakness also lies in the picture's simplicity: even as writer/director Andrew Adamson and co-screenwriters Stephen McFeely and Christopher Markus score points for clarity, emotional involvement, and story construction (the sequencing is brilliantly done -- it pulls us into the central conflicts at the core of Narnia even before the Pevensie children make their first appearances), it would be difficult to imagine a more thematically shallow or two-dimensional tale. One keeps hoping for Adamson and co. to plumb deeper, to add philosophical layers and thematic weight, à la Lewis, which isn't, of course, incompatible with the demand for narrative ease. That never happens. The younger set won't mind or even notice, though it will inevitably restrict the demographics by lessening the film's appeal for depth-hungry teens and adults.
For much of its duration, Caspian (like its predecessor) also cries out for some sort of visual awe -- an apocalyptic element to push it ahead of, for example, The Lord of the Rings series or The Golden Compass, and the sort of jaw-droppers that classic screen fantasies such as The Neverending Story and Jason and the Argonauts handed us in spades. Fortunately, Adamson does give us that in the concluding sequence, with an arresting visual surprise that will not be disclosed here but that does leave a memorable impression (and that neatly foreshadows Dawn Treader). Even given that bravura concluding sequence, though, this film, and the Narnia series as a whole, runs the same risk as all early 21st century screen fantasies: that of falling prey to the impersonality of super-advanced CGI work. In pre-CGI films like The Neverending Story, one always sensed the handiwork behind each of the creatures, and the fact that so many were tactile (as opposed to being casually thrown up on the screen with computer graphics) gave them an element of plausibility and credibility that Aslan and Reepicheep the Mouse (for example) fully lack. The best of those creations also sported anthropomorphic personalities sadly missing here despite Liam Neeson's stellar vocal work on Aslan. Walden hasn't quite figured out how to bring those elements into play -- and they may be the very missing elements holding the series back from masterpiece status.
Yet the cast here shines throughout. As the vile King Miraz, Sergio Castellitto represents an inspired choice (he brings under one roof hundreds of nightmarish visions of evil sages and kings from one's darkest fantasies). Similarly, Ben Barnes radiates nobility and warmth as Caspian, and as the four Pevensie children -- Susan, Peter, Edmund, and Lucy -- Anna Popplewell, William Moseley, Skandar Keynes, and Georgie Henley make welcome onscreen surrogates for our adventures. Particularly laudable is the fact that none of these kids look all that glamorous, polished, or surreally beautiful, but suggest average and unremarkable Britons.
Scattered weaknesses aside, Caspian represents something of a pleasant surprise. It may leave some viewers wanting more, but if approached sans expectation, it feels breezily enjoyable and adequately exciting. Younger viewers, in particular (especially those under the age of 13) will find themselves swept up in the gestalt of the tale.