At a point in cinema history where digital technology affords even low-budget filmmakers the luxury of producing features with nearly enough glossy luster to rival that their studio-financed counterparts, leave it to renegade movie mavericks Quentin Tarantino and Robert Rodriguez to produce a wide-release double shot of no-shame cinema so scuffed up it appears to have been edited with a blender, and so gleefully tasteless it could have only been inspired by the 42nd Street classics of a bygone era. A near nonstop injection of adrenalin and exhilaration from the opening shot of "Machete" to the face-smashing final frame, Grindhouse successfully turns the clock back to the days when seedy drive-ins stood on the land now occupied by state-of-the-art movie multiplexes. As with the ramshackle exploitation flicks which inspired them, Planet Terror and Death Proof (as well as the faux movie trailers, of course) revel in the kind of inventive excesses that will have nostalgic no-rules cinema lovers punch drunk with politically incorrect glee.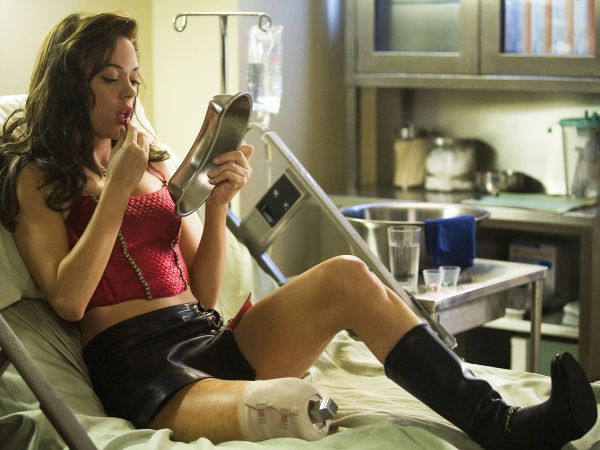 It's no secret that Robert Rodriguez is a filmmaker who lives to break the rules, and with Planet Terror he has crafted a pitch perfect George A. Romero/John Carpenter hybrid that -- in signature Rodriguez style -- dazzles with audacious gore and impossible thrills. After setting up the plot to his mutant zombie saga with an opening scene that breezes over the basics before suddenly exploding into a triumphant blast of severed testicles and erupting squibs,Rodriguez keeps things zipping along at a whirlwind pace. The action is fast, over-the-top, and explosively bloody. Every bullet that makes contact spurts like a miniature Mt. Vesuvius, and anyone who gets hit by a car simply bursts like a wet bag of guts. Greg Nicotero and the KNB crew obviously put in some overtime on this one, and their hard work pays off in ways that will more often than not leave the viewer's mouth hanging slack in astonishment. In addition to its manic Nightmare City energy and Street Trash gore, though, Planet Terror stands boldly apart from the abundant pack thanks to writer Rodriguez's skill for penning vivid, character-building beats that say plenty and keep things consistently interesting without weighing the film down with superfluous dialogue. Of course the big guns in this are obviously having a blast -- Josh Brolin in particular appears to be relishing the opportunity to crank up the creepy -- but even the most minor of supporting players shine when given the occasional "throwaway" line. As usual, Rodriguez wears a number of hats in the production of Planet Terror, and as a composer he playfully apes Carpenter's signature synthesizer scoring style in a manner which unmistakably evokes Assault on Precinct 13 and Escape from New York. Not only is it entirely appropriate, but it also carries the film along with a grimy momentum that beautifully evokes the era that -- in an ideal alternate universe -- Planet Terror would have no doubt been a product of.
The second feature in this diabolical double bill, Quentin Tarantino's death-by-motorpsycho flick Death Proof, evokes such gas-guzzling classics as Vanishing Point and White Line Fever in telling the tale of a nacho-munching peddle-puncher who can only get his kicks though a kinky mix of speed and slaughter. As opposed to Planet Terror, Death Proof not only emulates the aesthetics of the films that inspired it, but it makes sure to let the viewer know precisely what those films are by name-dropping each of them multiple times. One half oppressive pop-culture gab-fest that may make viewers want to puncture their cochleae, and one half spectacular extended car chase that dares them to even blink, Tarantino's segment falters early on while presenting a group of Texas beauties who all talk like the director himself after double-fisting Red Bulls all night, and then blasts off with a breakneck backroads chase that would have even Steve McQueen popping Dramamine. On the topic of cool, Death Proof star Kurt Russell walks though his role as smiling vehicular womanslaughter specialist Stuntman Mike with an arresting, Duke-like swagger, his teetotaling villain an endearingly susceptible combination of malevolent charm and paper-tiger confidence. While Tarantino's rapid-fire dialog comes off as strained and forced when spoken by the terminally cool ladies who open the Death Proof segment of Grindhouse, coming from Russell it couldn't sound any cooler. Yet later, when Stuntman Mike's cool begins to slip, Russell effortlessly shifts gears to the reveal his character's carefully guarded true nature. The effect is absolutely hilarious, seamlessly propelling the entire experience to an appropriately disorienting finale that perfectly recreates the brusque codas of 1970s cinema. For anyone fearing that the order of the films should have been reversed, Rodriguez and Tarantino truly couldn't have ended the Grindhouse experience on a more satisfying note.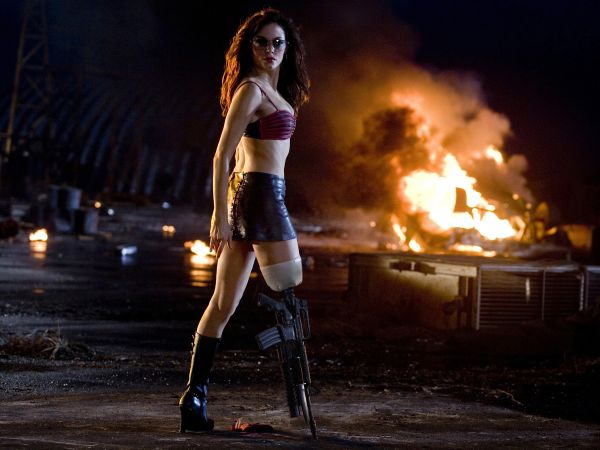 As for the fake trailers, Eli Roth, Edgar Wright, Rob Zombie, and Rodriguez all deliver appropriately outrageous nuggets of exploitation bliss showcasing everything from machine-gun touting Nazi werewolves to a holiday feast that no one is likely to soon forget. They're all an absolute blast, and though Zombie has a spectacular cult cast in "Werewolf Women of the S.S." and Danny Trejo has never been more bad ass than he is in "Machete," it's the snowballing insensibility of Wright's "Don't" and the inventive kills of Roth's knife-wielding "Thanksgiving" pilgrim that truly drizzle the bloody gravy over this gruesome dish.