Charlotte Rampling is one of the best-respected British actresses of her generation, but while she's had a long and successful career in Europe, she's never broken through to genuine stardom in the United States. One could chalk this up to bad luck and poor casting in her American projects -- beyond 1982's The Verdict, she's had few major box-office successes stateside, and whoever suggested she should take a major role in the 1977 disaster Orca should have been fired -- but it probably has more to do with Rampling's willingness to take on edgy, challenging roles in projects that aren't likely to go over big at the multiplex. American actresses are supposed to be beautiful and steal our hearts; they're not supposed to make films like The Night Porter (in which a Holocaust survivor has a sadomasochistic relationship with her former guard) or Max, Mon Amour (in which Rampling's character cheats on her husband with a chimpanzee). Rampling brings intelligence and emotional complexity to even her simplest roles, and filmmaker Angelina Maccarone demonstrates how much this has to do with the actress's own perspectives on art and life in the documentary Charlotte Rampling: The Look.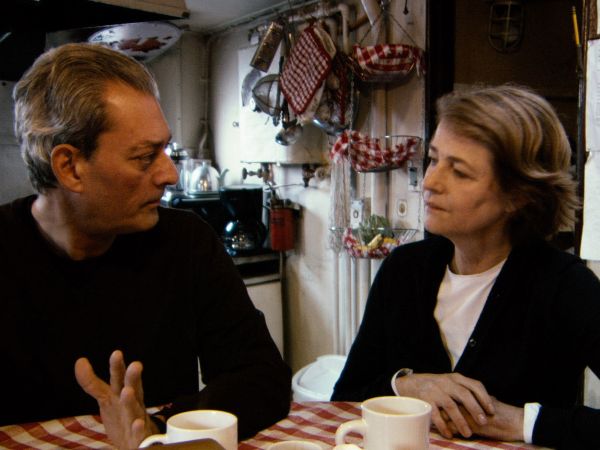 Charlotte Rampling: The Look isn't a biography so much as a character study; in this film, Rampling reveals a great deal about herself, but you'll find out very little about her background or private life. Instead, the film is divided into nine parts, and in most of them, Rampling is interviewed as she talks about a specific aspect of life and acting with a trusted friend or colleague (the director describes the movie as "a self-portrait through others"). In "Exposure," Rampling talks about the role of the image in her craft while chatting with photographer Peter Lindbergh (she also briefly turns the camera on him, which he says is a first). In "Age," she shares her feelings about how time affects both life and art with novelist and screenwriter Paul Auster. Rampling once took part in a provocative photography project with artist Juergen Teller, and together they discuss the notion of "Taboo." In "Desire," Rampling talks about passion and lust with Franckie Diago, who was the production designer on the film Heading South; in the picture, Rampling played a tourist who has an affair with a younger man in Haiti, while Diago fell into a similar relationship while making the movie. And in "Resonance," Rampling compares notes on the practice of her craft with actor and director Barnaby Southcombe, who also happens to be her son.
The woman who appears in Charlotte Rampling: The Look is a truly fascinating character, an actress who is opinionated, whip smart, and a shrewd judge of her own life and abilities. Rampling began her career as a model and has often been cited as one of the most-beautiful women in show business, but as captured by Angelina Maccarone's camera, Rampling, born in 1946, seems thoroughly comfortable with the lines on her face (if she's no longer strikingly beautiful, she's still lovely, energetic, and practically the definition of aging honestly but gracefully). Rampling walks with a brisk confidence through the streets of Paris, London, and New York, but clearly she has little desire to call attention to herself; Rampling is an actress, not a movie star, and that seems to be just the way she likes it (however, she's not at all bothered when she's recognized while strolling through a park, and she obligingly passes along a friendly kiss to a fan). While talking with a handful of smart friends, Rampling never fails to come off as their intellectual equal, and her firmly held opinions on everything from actors' exercises to the hereafter suggest this woman has a fascinating autobiography in her. Maccarone's film is a tribute to the art of lively conversation as much as a biography of a great actress, and the director's approach is thankfully subtle -- the camerawork is clever without seeming fussy, the director knows when to simply let people talk when they have something worthwhile to say, the use of film clips is intelligent and judicious, and Maccarone occasionally points to the fine line between art and life as she photographs her own camera crew photographing their subject. Few filmmakers have made as intelligent and absorbing a profile of a working actor as Angelina Maccarone has in Charlotte Rampling: The Look, mainly thanks to her decision to focus on an actress who is every bit as complex and fascinating as any character she's brought to the screen.